Top 10 Online Stock Market Courses in Mumbai
Are you looking for Stock Market Courses in Mumbai? Trading and Investing in the stock market can be a particularly rewarding career choice. Thanks to the advent of online trading, it is now safer and more efficient. Mumbai is home to some of the best share trading institutes, providing an ideal platform for novice investors to gain knowledge and experience.
Mumbai is known as the financial capital of India. Some famous traders and investors from Mumbai are Rakesh Jhujunwala, Ramdeo Agarwal, Ramesh Damani, and Vijay Kedia. If you are serious about your stock market career then read this article.
 Also Read: Top Supply and Demand Courses
Top 10 Online Stock Market Courses in Mumbai
As the commercial capital of India, Mumbai is home to one of the world's fastest stock exchanges and provides a plethora of options for stock trading education. From basic to advanced courses, these are available from several institutions.
MAK Trading School
NSE Training Academy
BSE Training Academy
National Institute of Securities Market
ICFM Institute
The Walls Street School
Trading4living
Avadhut Sathe
NIFM
Nifty Trading Academy

MAK Trading School is a Premier Stock Market Training Institute imparting financial knowledge and training to students for attaining financial freedom. Founded in 2021 by Mahesh Kaamath, Ex Instructor at Online Trading Academy, is giving reality to the dreams of many Aspiring Stock Market Traders.
With 11+ years of teaching and training Students across India, we pride ourselves in providing affordable stock market courses in Mumbai and other cities. MAK's online learning platform is designed for beginners and experienced traders who want to learn Stock Market trading with a logical and technical approach.
The Core strategy program is a well-structured comprehensive course covering the Basics to Advanced concepts. No prior knowledge is required to attend this course. The Course is Strategically designed for Working professionals, housewives, and aspiring traders who seek to generate a passive income through the stock markets and are often limited by time constraints. This course allows users to learn from any device, at any time, and from any location.
The Core Strategy course contains 14 modules and 11+ Hours of content with Case studies for better understanding. Live Q&A sessions can be utilized for doubts and Strategy related questions.
Short term Courses for Intraday, Trading Plan, and Psychology Courses by highly trained Expert Instructors are available at MAK Trading School
Key Takeaways from the Core Strategy course
Complete the Course right from Basics to Advanced levels
Student Friendly LMS Portal can learn anywhere and anytime
Lifetime access to Course
Free certification after completion of the course
Access to Proprietary Supply and Demand Zone Indicator and Screener
Live handholding in Q & A sessions
MAK Trading School's mission is to promote financial literacy and improve trading skills. Our aim is to offer the highest quality Share market courses in Mumbai at affordable prices.
They have a Supply and Demand Zone indicator , which is a revolutionary product that plots high probability Supply and Demand Zones. This Indicator will give you the Trading edge to succeed in the real markets.
Website: www.maktradingschool.com
Email: support@maktradingschool.com
Course Duration: 11 hours
Contact: 7400088842
NSE Training academy is a Subsidiary of NSE investments and was set up in 2016. It promotes various financial literacy and provides training in Banking, Insurance, and Financial Markets. The Academy offers Stock market courses for beginners in Mumbai and other Cities. They also have postgraduate and Short terms courses that help people in their professional development.
Website: nseindia.com
Contact: 022 68646464
Course Duration: 110 hrs
Email: ncfm@nse.co.in
BSE Training Academy is an established leader in Financial education and a subsidiary of the Bombay Stock exchange. The institute focuses on overall development and essential skills. They have a plethora of courses ranging from Vocational Courses , Graduate & Postgraduate, and International Courses. They have online courses, allowing you to learn remotely with multiple levels of certifications.
Website: bsebti.com
Contact no.: 022-22728382
Course Duration:4 days
Email: training@bseindia.com
4. National Institute of Securities Market
Established in 2006 by the Securities and Exchange Board of India (SEBI), the  National Institute of securities market carries out an array of capacity-building initiatives at various levels, which are designed to upgrade the standards of quality in securities markets.
The Institute offers capacity-building and specialized training programs for securities market participants and regulators to develop policy, implement policies, and ensure compliance. In addition, it enables securities professionals to stay up-to-date on the latest market legal framework, products, processes, and technologies.
Website:https://www.nism.ac.in/
Email: llm.placement@nism.ac.in
ICFM India is the premier and exclusive Stock Market Institute, offering an extensive range of financial services and a comprehensive platform for learning about the stock market and investments. Our Stock Market Course programs provide expert-level financial training and solutions for a wide range of financial questions. With courses available in-person and as home study materials, we provide the most up-to-date and comprehensive training available.
Website:https://www.icfmindia.com/
Email:info@icfmindia.com
Contact No:+91 9971900635
6. The Walls Street School
Starting in 2009, Walls street school also offered stock market courses in Mumbai. The course is designed to equip investors and traders to develop their own strategies and provide hands-on experience with advanced software to create excel templates for stock analysis. Aimed at non-finance candidates, the course offers an easy-to-understand overview of the topic, avoiding jargon and providing a thorough understanding from beginner to advanced level, with practical examples and insights.
Website:https://www.thewallstreetschool.com/
Contact : +91-9953729651
Trading4Living Academy, located in Dadar, Mumbai, offers a wide range of stock market training course products and services to suit the varying demands of customers. They have comprehensive courses in the stock markets and have expert instructors training in Stocks, stock futures, Index futures, commodities, Options, and forex.
Website:https://www.trading4living.co.in/
Email:info@trading4living.co.in
Contact No: +91 9769 775512
Avadhut Sathe has been involved in trading and investing for over 30 years, since 1991, having seen several ups and downs during that time. His breadth of experience across different markets, including derivatives markets in both India and the United States, is extensive.
ASTA offers a variety of courses and programs that cover different aspects of trading, including technical analysis, risk management, trading psychology, and algorithmic trading. The academy provides online and offline training, and its courses are suitable for beginners as well as experienced traders.
Website: Avadhut Sathe – Trading Academy
Email:enquire@avadhutsathe.com
Contact No: +91 72089 96417
The National Institute of Financial Management (NIFM) is a premier institution in India that offers training, research, and consultancy services in the field of finance and management. The institute was established in 1993 by the Ministry of Finance, Government of India, with the aim of developing human resources for the finance sector.
NIFM offers various courses and programs in finance and management, including postgraduate diplomas, certificates, and short-term courses. Some of the areas that the institute focuses on include financial markets, banking, insurance, public finance, and capital markets.
Website: www.nifm.in
Email:info@nifm.in
Contact No: 011-45646322,09910300590
10. Nifty Trading Academy
Nifty Trading Academy is an online education platform that provides trading courses and resources for individuals who are interested in learning about trading in the Indian stock market. The academy offers a variety of courses on different trading strategies, technical analysis, fundamental analysis, and risk management.
Website :https://www.niftytradingacademy.com/
Email:contact@niftytradingacademy.com
Contact No:.+91 97247 95247
In conclusion, there are several stock market courses & institutes in Mumbai that offer courses and programs to individuals who are interested in learning about the stock market and trading. These institutes provide education and training on various aspects of the stock market, including technical analysis, fundamental analysis, risk management, trading psychology, and portfolio management.
MAK Trading School has crafted a thorough training program for the Stock Market, tailored to meet the different needs of Working Professionals, those without any prior knowledge, seasoned traders looking to sharpen their skills, and those aspiring to trade. Our revolutionary indicators and Screeners will help you fasten your learning Curve and make you a better and more Confident trader. The Strategy is based on Price Action Trading using Supply and Demand Terminology and can be applied to any Market and any Asset class and any timeframe.
Workshop – Trading Mantra Workshop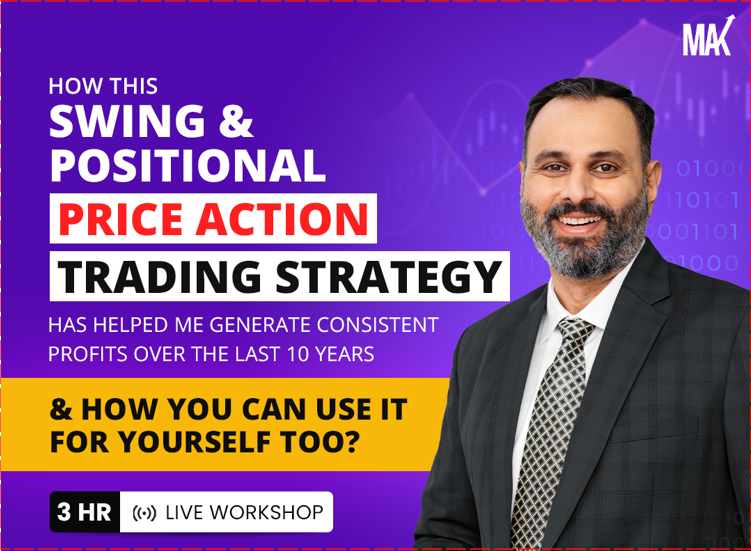 Every Sunday, we offer a 3-hour live workshop on Price Action Trading using Supply and Demand Zone for a nominal fee of Rs.97/-. This workshop provides an introduction to the strategy as well as relevant tools and information that should not be missed.
Who Should Take this Workshop
1. Attention All Beginners:
Novices may not possess the requisite proficiency and acumen to form sound trading decisions. Their deficiency in understanding market dynamics, investment strategies, and risk mitigation techniques may impede their success.
Overall, beginner traders face a steep learning curve, and it takes  time, dedication, and practice to become successful traders. However, with the right knowledge, tools, and support, beginner traders can overcome these challenges and become successful traders.
2. Attention all Working Professionals
Trading can be a great way to earn passive income, however, it is not without its challenges. Time constraints due to work and other responsibilities, emotional exhaustion, lack of knowledge and experience, limited access to trading tools and resources, and difficulty in managing work-life balance can all be roadblocks. To become a successful trader with only 1-2 hours of time invested and without having to quit your job, you must equip yourself with the right education, strategy, and tools.
3. Attention all Advanced Traders
Advanced Traders may become arrogant and overconfident in their trading capacity, ultimately resulting in suboptimal decisions and losses. Market turbulence, augmented rivalry, exhaustion, and sustaining consistent returns are some of the obstacles that experienced traders encounter. This workshop will be an eye-opener for all types of traders who want to upskill and learn something new.